[Logo (c) 1998 Barbara Chambers]

Amateur Video Captioning
- and -
The Shoujo Anime Club
Last updated on: 7-24-2022
---
Recent News: The Technogirls Brother Dear Brother episodes being distributed by BitTorrent are NOT being distributed with our permission! Furthermore, their video quality is UNACCEPTABLE. Please do not waste your time trying to download them. Our official version from SVHS masters is available at our Anime-on-DVDR site. You can go directly to it at www.quixium.com/fan/anime_dvdrlist.htm with the main page at www.quixium.com/fan/. The final volume will be posted soon.
---

Warning: this page is viewable with Microsoft Internet Explorer. However, we don't like the Microsoft Monopoly, and so we recommend Opera , a product created with the user's REAL needs in mind instead of the Microsoft mindset of designing bloated applications whose primary goal is to assist in maintaining an exploitative software hegemony. Also, Netscape 6.x is excellent.
---
Who (or what) are the "TechnoGirls"?

The TechnoGirls (originally Barbara, Gloria, Jennifer) are "some technically-competent people who enjoy anime." Our main interest is in lesser-known less-commercial anime originally intended for a female audience. ("shoujo" ("girls") anime.) We especially like to introduce others to anime which is so unknown, or so off-the-wall, or so culturally specific that even the original Japanese companies wouldn't dream that, of all things, an American might be interested in it. For our own amusement, we are fansubbing a few tapes we especially like. We are NOT professionals. We are amateurs. We do this for fun, and for one other reason, explained below.
Definition -- fansubbing: taking an unknown (in the US) foreign-language video of which one is a fan, and translating it into English, and adding the English script as captions on the video, then allowing one's friends view it, which allows others to see something which would never otherwise be seen in English at all. In most cases fansubbing is not actually legal, since somewhere (i.e. in Japan) there is an owner of the copyright, but in certain types of cases, fansubbing is quietly "tolerated" because of the benefits to the fans and the increased awareness of a show which the fansub brings. This sometimes even results in bringing the show to the attention of a US or UK video company, who then may choose to purchase the rights to the show and produce it commercially. Often, the fan community's acceptance of the fansub of a show is the only available English language marketing information a US anime company can trust. Commercial companies also often rely on fansubs to do appraisals of how the material would read if translated. Once produced commercially, of course, all of the fansubs of that show quietly "disappear". Still, many fansubs never become commercial -- most fansubs remain "orphaned" forever by US/UK companies, and only the tiny underground circle of fans who passed around the original fansub ever see the show.
We are only interested in shows which we believe will never be professionally shown in the English language, ever. After 6 years of making fansubs of several series and OAV's, not ONE of our projects has been produced commercially in English. Can you think of another fansub group who can say the same? We are avoiding shows which might be perceived to have commercial value. It isn't right to distribute fansubs of a show which is already for sale in English. Furthermore, it's a waste of our time to fansub something which will later be produced in English by a commercial company. Why go to all the trouble to translate and subtitle a show which will be professionally released in English? If we did that, we would be using time that we could spend rescuing some other deserving show from oblivion. That one word -- "rescue " -- best describes why we choose a show to fansub. There are many shows that have no significant chance of being produced in English, and too many of those shows have wonderful qualities that would make them really worthwhile to watch, if only they could be seen in English. Many such shows are "shoujo" anime.
Definition -- anime: a wide-ranging genre of animation produced in Japan for Japanese viewers: adults, men, women, young people, and yes children too. Anime is not the same as the US "cartoons" which are relatively unsophisticated and "tamed" animation which follows a slapstick or fairytale Hollywood formula meant for US children. Anime is unlike nearly anything produced in the US, though there have been a very few exceptions. (Some of these exceptions were pioneered by MTV: "The Maxx"; "Aeon Flux"; "Daria".) Commonly, anime is character-driven storytelling (in the US, cartoons are situation-driven) with artwork based on an individual artist's conception (US: cartoons are studio conceptions), that artwork being derived ultimately from ancient forms of Chinese/Japanese/Buddhist illustration (US: cartoons are generally derived from newspaper and Disney prototypes.) Despite increasing American knowledge of anime, and even emulation of some of the perceived aspects of anime that make it unique, "anime" produced outside of Japan just isn't the same.
Some other women associated with us, as translators, are Anna Exter of British Columbia, Canada; Yoko Okamoto of San Jose CA; Yoshie Nishida of Santa Clara CA; Chiyoko Ishikawa of Hayward CA; Naomi Shalowitz of Menlo Park CA, Tomoko Motooka of Santa Cruz CA, and Emi Evett of New Mexico. Also we should mention two important men, Ben Ettinger of Texas, and Ken Hardwick. Some photos of us are here at The Techno-Girls (Themselves)
Nearly all of this web site is written by me, Barbara. Gloria thinks computers are unpredictable and a bit scary, and Jennifer is just too busy to mess around with the webpage. When writing here, I know that sometimes I use "we" and "I" almost interchangeably, as I try to speak for both myself and for the rest of us, and I'm sorry if it sometimes sounds a bit odd. The web site represents work done by many people, as well as work and opinions solely from myself.

---
Requests
For anime on DVDR that you can play on your DVD player,, go directly to the request page at www.quixium.com/fan/anime_dvdrlist.htm or start at the main page at www.quixium.com/fan/. This is a new mini-distro which tests the idea of fansubs and J-drama on DVDR. These disks are playable on most DVD players and are capable of high quality, as opposed to the digisubs and downloads available all over the Internet. The cost is about the same as tapes, with disks going for about $6 each ($8.50 for some premium grade disks). This may well be the amateur captioning medium of the future. This is also the way to find obscure J-drama, K-drama, J-pop, K-pop, enka, and a variety of other rarely seen oddities.
There are still a few other alternatives... We have a small "Shoujo Anime Club" whose members have access to fansubs, and if you are lucky enough to send me email when we have some membership openings available, I may be able to send you an invitation to join. It doesn't hurt to try. And, if you are librarian of a school anime club, you may get preference. Also, if you are outside of the US/Canada/Mexico region, be sure to send me email directly and I will get you access to our fansubs. There are other options as well -- it is best to write and inquire. Finally, there are lists of a few people we have traded with below, and you can sometimes get copies from one of them. However, we've almost given up on magnetic tape as a medium. We'll be converting all our tape SVHS masters either directly to DVDR, or indirectly by remastering them to DVDR. This will take about 1 year to complete. However, all our new stuff will be immediately on DVDR for request at our request site.
---
Sources

We've verified that some of our fansubs exist at the places listed below. Each fansub is listed followed by a two-letter abbreviation for the source. (See list following.) Also shown is the type of tape we think these sources possess.
Just because we think these clubs or individuals have a tape doesn't mean that they will copy it for you. They may have special times when they do not accept requests, or they may have a lot of special requirements, or they may simply be "closed" for a while. There are other traders not listed here who have copies also, of varying quality. The traders who are listed below are not guaranteed or in any way endorsed or associated with us. This is simply a convenience, for those who have written us asking for a way to find specific tapes. We'll expand the list as we get more info. Our fansubs are less commonly available than most.
Do not write us if one of the tapes below that you are looking for has few or no sources. We know, and are trying to find additional sources already. Recently completed tapes always start out with no sources available, of course.
Do write us if you had a bad experience from any of the below sources, so that we can perhaps remove that listing. Our email address is given here .
Shoujo Anime Club members have direct access to our masters. If you know someone who is a member of SAC, you are encouraged to arrange trades with them if you like.

List of Tapes and Probable Sources
Below is a list of each fansub followed by a two-letter abbreviation for the source. In parentheses is either (m) for SVHS master tape (the best source available) or (s1) for 1st generation SVHS tape (nearly as good a source as a SVHS master tape.) At this time we aren't listing sources which have lower-resolution tapes than (m) or (s1).
We began mastering digitally, and that forced us to adapt our grading system. For new fansubs which are done as a high bitrate digital master (HBRDM) , resulting tapes are far better quality than a tape copy from a tape SVHS master. Therefore, the ratings here show that a svhs tape made from the HBRDM is equivalent to an SVHS master (m), and tapes made from that tape are equivalent to a SVHS-1 tape (s1). In this sense, the HBRDM is actually a "mother" tape, whose tape copies are "masters". Subjective evaluation of the watchability of the conventional "masters" versus the "from-HBRDM masters" confirms that this grading policy is appropriate. However, this only applies to cases where the source is a HBRDM. Low bitrate "digisubs" show too many artifacts and faults to qualify their tape copies as masters, by a large margin. (Digisubs are low resolution normally, 350x240 or worse, and you can't make a decent 640x480 video from a 350x240 source.)
Note: multiple revisions of some tapes exist. See the revision history section for details of the differences between the revisions.
Aim for the Ace! 1-4, (rev. 1, tapes from HBRDM ): KH (m), SA (m)
The BlueGreen Years 1-4, (rev. 3, commercials in show): KH (s1), TS (s1)
The BlueGreen Years 1-4, (rev. 4, commercials at end only): VG (s1), TS (s1)
The BlueGreen Years 5-8, (rev. 1): EG (s1)
The BlueGreen Years 5-8, (rev. 2): EG (s1), KH (m), NW (m), SW (m), TS (s1), VG (m)
The BlueGreen Years 9-12, (rev. 2): EG (s1), KH (m), TS (s1)
Brother, Dear Brother 1-4: EG (s1), KH (s1), NW (s1), SW (m), TS (s1)
Brother, Dear Brother 5-8, (rev. 1): EG (s1), KH (s1), NW (s1), SW (m), TS (s1)
Brother, Dear Brother 9-12: EG (s1), KH (s1), NW (m), SW (m), TS (s1)
Brother, Dear Brother 13-16, (rev. 1): EG (s1), KH (s1), TS (s1), VG (m)
Brother, Dear Brother 17-20, (rev. 2): EG (s1), KH (m), TS (s1), VG (s1)
Brother, Dear Brother 21-24, (rev. 2): EG (s1), KH (m), TS (s1)
Brother, Dear Brother 25-28, (rev. 1): EG (s1)
Brother, Dear Brother 25-28, (rev. 2): KH (m)
Brother, Dear Brother 29-32, (rev. 4, tapes from HBRDM ): KH (m)
Brother, Dear Brother 29-32, (rev. 5, tapes from HBRDM ): TS (m)
Brother, Dear Brother 33-35, (rev. 1, tapes from HBRDM ): KH (m)
Christmas in January & Sequence: EG (m), KH (m), TS (s1)
Enka Collection #1: KH (s1)
Enka Collection #2: KH (s1)
Five Star Stories Movie (rev. 1, tapes from HBRDM ): KH (m)
Gestalt 1 and 2: Never traded or copied; not available.
Kiko-chan's Smile 1-4 (rev. 3): KH (m)
Kiko-chan's Smile Ep. 1 (low bitrate digital fansub): for the Shoujo Anime Club only, not available elsewhere.
Memolu in the Pointed Hat: KH (m), TS (s1)
Romeo's Blue Skies 1-4: KH (s1), KO (s1), SW (m), TS (s1), VG (s1)
Romeo's Blue Skies 5-8: KH (s1), KO (s1), SW (m), TS (s1)
Romeo's Blue Skies 9-12: KH (s1), KO (s1), SW (m), TS (s1), VG (s1)
Romeo's Blue Skies 13-16: EG (s1), KH (m), KO (s1), TS (s1)
Romeo's Blue Skies 17-20: KH (m), TS (s1)
Romeo's Blue Skies 21-24: KH (m), TS (s1)
Romeo's Blue Skies 25-28: KH (m), TS (s1)
Romeo's Blue Skies 29-33 [final]: KH (m), TS (s1)
The Song of the Wind and Trees & Zetsuai 1989: KH (s1), NW (m), SW (m), TS (s1)
Wedding Peach 1-4: KH (s1), NW (s1), SW (m), TS (s1)
Wedding Peach 5-8: (rev. 2): KH (s1)
Wedding Peach 5-8: (rev. 3): EG (s1)
Wedding Peach 9-12: KH (m), TS (s1)

List of Abbreviations

Note: "SASE" means you send no money but you do send all tapes, postage, mailers, etc. Rules vary; be sure you ask for complete instructions and follow them. "Requests " means you send a note with some money to pay for tapes and costs. " Trades " means you send a copy of a tape they want to get a copy of a tape you want.

EG: Elijah van der Giessen (Send email. Requests, SASE, & trades. Based in Canada.)
HI: Hitokiri Anime Haven (Requests & trades)
KH: Ken Hardwick (Requests & trades) Note: Ken is not responding to email according to reports, so he may not be operational anymore, despite the website being active.
KO: Kodocha Anime (Requests & trades)
NW: NewType (Closed for requests: T-girls tapes maybe avail. by SASE, try sending email )
SA: Scorpion Anime (Requests & trades)
SW: Silverwynd Japanese Animation Club (club members only)
TS: Tsunami Fansubs (Trades)
VG: Verge's Anime List (Trades)
We regret to see that Aquarian is no longer on the web. They will be missed.

(1) We are advising our members that it may be unwise to request any tapes from "Ship-Fast Anime" in Canada. We've requested that "Ship-Fast Anime" remove any Technogirls fansubs from their listings. Update: Due to pressure from commercial companies and from fansub fans, "Ship-Fast Anime" has disappeared now, but might reappear under a new name. They never removed our fansubs, or all the English-language commercial tapes, from their listings.

(2) Similarly, "CRT Anime Distribution And FanSub" may be a anime profiteering operation masquerading as a fansub distribution service. We recommend that our friends avoid them. Any experienced fansub collector would do so anyway, since their prices for a standard TDK-HiFi 3-tape US request is nearly $24, which is unreasonably high assuming they use the usual materials sources that other distros use. They are also copying English-language commercial tapes, and subs of US-licensed anime, for profit. Furthermore, they are recording anime onto CDrom in a digital video format and selling 3 CD's for $30 -- which again is about double what fan distros charge for the same thing. They have some of our tapes listed there for distribution. We requested that they remove our tapes from their list, and remove the commercial tapes from their list, and set their prices to a level consistent with other fan-run distros. They replied that they would remove our tapes and the commercial tapes from the list. However, they did not do so. Their web page is torn down now.

(3) Members of our club have reported numerous problems with "White Cross " distributor. This distributor seems to be an alias or an allied partner of "Kakyouin". The problems include: non delivery of requests, failure to respond to email, failure to ship fansubs to people suspected of having their own distribution, and defective tapes. "White Cross" often insists on releasing fansubs packaged as if they were commercial releases -- for instance, new programs are available only one-episode-per-tape, but the cost is no different from 4 eps. per tape. They have other tactics which seem to be chosen to maximize their cash flow. Members are advised to consider other distributors instead.

(4) We regret to report dishonest tape grading on the part of the new distro "Bikurisita Anime". This person created a nice slick web site, then began spamming mailing lists with self-promoting messages intended to give the impression that they were written by someone else. Examining their website shows that they list an enormous number of "master" and "s-master" tapes. In fact, it seems like any tape that they think looks good they described as a "master." I wrote to the address given and was given a reply which explained that since the tapes had been digitized, they were better quality than the originals, and therefore deserved to be called "masters". We know that they do not own any actual Technogirls masters, and probably don't have most of the rest of the tapes they labelled "master" either. We asked them to either label their listings honestly or to remove all Technogirls tapes from their list. They did neither. Their web page is a Tripod page, and their email address is a Hotmail address (bikurishita@hotmail.com). This is apparently a newbie distro who digitized his fansub collection and then made a website to try to make money by exaggerating the quality of their collection. Members are advised to avoid this distributor, since it is likely that other parts of his practices will also be dishonest.

Warning:
We are opposed to fraudulent or unethical fansub distribution and to bootlegging of pirated English-language commercial material. We will not hesitate to cooperate with commercial US/UK/Can companies in copyright enforcement. If you list our fansubs on the Internet, we will look at your site to try to determine whether to recommend you to our friends or to advise others to avoid dealing with you. You may receive a request from us to "remove all TechnoGirls fansubs from your listings" if we feel your site is more of a bootlegging business than an underground fan resource. Don't sell copies of English-language commercial tapes! Doing so endangers us all, and we will try to encourage or pressure you to stop. Please work with fansubbers, not against them.

How to become an official Techno-Girls Distributor
We don't have any "official" distributors, nor do we want to be involved with any sort of "distribution arrangement." If you have one of our tapes and make a copy for a friend, or you make 100 copies as requests via the Internet, it's all the same -- that's your business, not ours. Please don't ask us to label you an "Official TechnoGirls Distributor" because there is no such thing. The list of people above are just some people we've traded with -- that's why we know they have good quality tapes. If we didn't trade with them, they aren't on the list. That's how the whole thing works. We subtitle tapes so that we can show them to our club here and trade them with other subtitlers. Then we can watch what THEY subtitled.
It's true that we once did offer copies to anyone who asked, but we don't do that anymore. That was a long time ago.
If you want to be on the list above, trade fansub master tapes or top quality SVHS tapes with us, and we'll put your name there too, if you like. But you still won't be an "official" anything, just a person who has one of our tapes who says they might be willing to make copies for others.

---
Tape Revision Summary and Errata

Fansubs are like software: one can't ever say, "It's perfect." Eventually, something about it becomes annoyingly apparent -- it has a flaw, or glitch, or missing information, or some clumsy dialog, or some other horrible error. As time passes, the errors accumulate and we make a new revision of the tape, correcting things we don't like about the earlier revision. Some revisions change a LOT -- and other revisions change very little. Not all masterings become revisions. For instance, revision 1 of "Romeo's Blue Skies" was actually the 14th mastering of the tape. A revision number might only be assigned if a copy is made from the master.
The revision number is mentioned on each tape, near the beginning, right after the main titles. (Exception: early "Romeo's Blue Skies" tapes generally did not mention a revision number.) Some of the information in the following summary was reconstructed from memory, and might not be accurate or complete. Hopefully, this will help answer questions about what revisions are available and whether upgrading is worthwhile.



Aim for the Ace!

Aim for the Ace! 1-4
Rev. 1: This is a high bitrate Mpeg2 digital master (HBRDM ), bearing the date 6-19-2001, though it wasn't done until 10-8-2001. No errors to report yet.



The BlueGreen Years

The BlueGreen Years 1-4
Rev. 1: Anna Exter might be the only person to have a copy of this revision. She translated it.
Rev. 2: For a long while, rev. 2 was our main revision, despite having numerous typos.
Rev. 3: When Karen Duffy asked me for a copy, I panicked and decided to revise it one more time. I just couldn't let her see revision 2. Many trades were done with copies of revision 3, which like the previous revisions, contained commercials in the show, just as broadcast. It was fairly good, with respect to eliminating the typos.
Rev. 4: (Dec. 27, 1997) I decided to take the commercials out of the show and move them to the end of the tape. It took about 12 hours of synchronized subbing/editing to make the revision 4 master. There were other minor changes, and the video quality is slightly better. Because of improvements in our subtitling techniques, and equipment, and changes in how details in the show are presented, we are likely to create yet another revision of this volume someday.
The BlueGreen Years 5-8
Rev. 1: (March 15, 1998) Contains several timed splices (extremely hard to do), so we may not redo this until it really needs it.
The BlueGreen Years 9-12
Rev. 1: (Oct. 9, 1998) This revision was specially prepared for Anna Exter. Editing was limited, for the most part, to typographic work, and the scripting is virtually 100% by Anna Exter. This revision is similar to how these episodes would be treated if the show were to be professionally translated and released in English commercially, scripted for an audience unfamiliar with Japanese culture. This may be the best version if you aren't fond of fansubs edited by the Technogirls, or if you intend to read the subtitles aloud to a very young child.
Rev. 2: (Oct. 10, 1998) Edited by Barbara from the original Anna Exter script. This revision differs from rev. 1 in the treatment of the Japanese terms, especially "sempai" and "kouhai" in episode 12, and the other common forms of address. In addition, many details of phrasing and word choice are edited throughout to Barbara's preferences, causing the script to significantly differ from the original Anna Exter script. This revision is intended for a literate, Japanese-aware fan audience, and for children who are old enough to read the subtitles. Translation errors in this version should be assumed to be the responsibility of Barbara.



Brother, Dear Brother

Brother, Dear Brother 1-4
Rev. 1: Contains some ugly video transitions and other video problems. Perhaps no copies of this master exist today.
Rev. 2: Transitions corrected. Many copies were made of this master.
Rev. 3: (June 22, 1997) The entire introductory sequence was cleaned up, and several errors corrected in the script. Our copy of this master has deteriorated now so that it is retired, and a new master needs to be made. The next master will be a digital one.
Brother, Dear Brother 5-8
Rev. 1: (March 11, 1997)
Brother, Dear Brother 9-12
Rev. 1: (December 20, 1997)
Rev. 2: (December 25, 1997) Various splices cleaned up and numerous dialog changes from rev. 1, which probably was never copied. Yes, this is how I spent Christmas 1997. This version still contains a horrible error which must be fixed. (I'm surprised no one has pointed it out. The error: in the notes, the voice actress for Borgia-sama is noted, but the picture shown there is actually of Vampanera- sama .) So, there will be a revision 3.
Brother, Dear Brother 13-16
Rev. 1: (May 27, 1998) This was the last tape we mastered on our AG-1980. It was the prettiest tape we'd done to date, except perhaps for WP2 and Song/Zetsuai. However, some crucial information was missing from the notes, and a revision 2 will be done to include them. A bit of the "dodging" needs to be revised too.
The missing information is: (1) Saint-Juste's visitor, the friend of Takehiko, addresses Saint-Juste in a familiar manner. This manner is such that the Japanese audience recognized immediately that he must either be Saint-Juste's lover, lifelong friend, or family member. "Friend" is ruled out by SJ's own sarcastic " 'Friends'? " remark. So that leaves... what? (2) Episode 16 has a terrible "studio blooper". A mistake in the cel painting process. We wanted to point it out. Watch Kaoru-no-Kimi's basketball jersey change color as she practices under the street light at night.
Brother, Dear Brother 17-20
Rev. 1: (Aug. 8, 1998) We worked very hard to make sure that Rev. 1 was so perfect it would never need to be revised.
Rev. 2: (Aug. 18, 1998) Yoko was the only one to get a copy of Rev. 1. Rev. 2 contains proper information about Meissen Porcelain, and I got the fade-in-out working properly with my genlock finally. Plus very minor font fixes and dialog tweaks. Also fixed the brightness of the Logo, and some inappropriate colors. Error: "Koyama Nami" the voice actress for Fukiko-sama should be instead "Koyama Mami".
Brother, Dear Brother 21-24
Rev. 1: (Nov. 27, 1998) Unlike earlier volumes, this uses a light green color for the main dialog. So far, no known errors.
Rev. 2: (Dec. 10, 1998) This is identical to rev. 1 except that the main dialog is standard yellow. I fixed the problem with the video equipment that forced using green in rev. 1. No other changes.
Brother, Dear Brother 25-28
Rev. 1: (Nov. 19, 1999) In episode 27, one of the desserts mentioned was "kiwi-lime pie". However, this should actually be "Key Lime Pie" which is a type of pie famous in Florida, made from limes growing in the Florida Keys .
Rev. 2: (Jan. 19, 2000) This fixes the faults in rev. 1 above. Also, some minor rephrasing was done in about 5 places, and a few captions were "dodged ." There weren't a lot of changes. Though this was done after New Year's 2000, it still has the 1999 logo (blonde girl painting a sign) instead of the 2000 logo (large portrait in blue and white) because the latter wasn't drawn yet.
Brother, Dear Brother 29-32
Rev. 1: (Mar. 10, 2001) No faults noted yet. This fansub uses a new custom font, first tried in Kiko-chan 1.
Rev. 2: (Apr. 30, 2001) This was our first all-digital master. In making this fansub, 100% digital techniques were used, and the final result was essentially a DVD of about 5GB size. Tapes are made by playing the digital fansub while recording on a vcr. The improvement in quality is very evident.
Rev. 4: (Aug 1, 2001) All masters of Rev. 2 were made in A+B monaural, not true stereo. This all-digital master replaces rev. 2 to correct that. (A Rev. 3 was made, but no copies done.)
Rev. 5: (Aug 21, 2001) Rev. 4 had some poor color choices in the introductory sequence, and the sound levels weren't quite right, so this extra version was made for the Shoujo Anime Club only.
Brother, Dear Brother 33-35
Rev. 1: (Approx. Mar. 10, 2002) No faults noted yet.



Five Star Stories

Five Star Stories Movie, with trailer
Rev. 1: This HBRDM bears the date 10-12-2001. There's an inconsistency: at two spots, Ballanche refers to the fatima vat as a "chamber" but later on Lachesis calls hers a "capsule." I meant to give both as "chamber". I did a bit of retranslating in a couple of places, because lines were missing and untranslated, but nothing important was left out. No other errors to report yet. This version has no captions at all for the trailer at the end, nor is the end song (by Yoko Nagayama!) translated. This was not a formal project, but just a way to get a decent fansub of the movie, since all our friends master tapes were wearing out, and the Hong Kong "DVD" was so horrible, and no other alternatives existed.



Kiko-chan's Smile

Kiko-chan's Smile 1-4
Rev. 3: (Sept. 16, 2000). This was our first fansub-from-tape which used white-on-black fonts only, no color. It was thought this would improve readability and minimize color smearing. Another unusual aspect is that there is commentary before and after each episode. One error: Sailor Moon's cat Luna is mentioned as a "him" but of course should be a "her". No other errors noted yet. Revisions 1 and 2 were never copied, so Rev. 3 is the first "final" revision. Revision 3 bears a dedication to Ryan Wade Goldstein. There will be a revision 4: after 3 years of searching, we finally obtained the original TBS video release tapes of the "best" of the earlies Kiko-chan episodes. So we'll make a new revision of eps. 1-4 with eps. 1,3, and 4 coming from the commercial tape, and episode 2, which wasn't evidently considered worthy of being in the collection, still from the original video store copy.



Romeo's Blue Skies

Romeo's Blue Skies 1-4
Rev. 1: Very few copies of this version were made. Rev. 2 followed two weeks afterwards. This was made with an Aver Video Editor, and looks awful. Has the 1996 tape logo, but there is no other way to recognize it. No revision number given in the tape. This was our very first fansub.
Rev. 2: Has the 1996 tape logo. We made numerous copies of this master. No revision number is given in the tape. This was made with our current genlock, the Deltascan Pro.
Rev. 3: Has either the 96 or 97 tape logo. No revision number given in the tape. Made to improve video.
Rev. 4: Though this is the "current" revision, it can't be easily identified because we weren't putting revision numbers inside the tape at that time. But you can tell, because it has the 1997 tape logo and the words "Presenting an amateur translation of...". Made to improve font and video.
Romeo's Blue Skies 5-8
Rev. 1: No revision number is given in the tape.
Rev. 2: No revision number is given in the tape. Made to improve fonts and video. A rather embarrassing mistake is that the table of contents says this is "Volume 1", though it also says "episodes 5-8"! This volume really needs another revision someday.
Romeo's Blue Skies 9-12
Rev. 1: (July 2, 1997) No revision number is given in the tape.
Rev. 2: Made to improve video. No revision number is given in the tape.
Romeo's Blue Skies 13-16
Rev. 1: (Sept. 20, 1998) We finally began including revision numbers in Romeo, as of this one. This version is fairly satisfactory.
Romeo's Blue Skies 17-20
Rev. 1: (Dec. 6, 1998) Two very tiny defects in this script that aren't serious enough to revise.
Romeo's Blue Skies 21-24
Rev. 1: (Sept. 7, 1999) No known defects yet.
Romeo's Blue Skies 25-28
Rev. 1: (Feb. 25, 2000) One minor typo.
Romeo's Blue Skies 29-33
Rev. 1: (Nov. 19, 2000) A couple of timing errors, but not enough to warrant remastering.



The Shounenai Classics Tape

The Song of the Wind and Trees & Zetsuai 1989
Rev. 1: (September 23, 1997) This revision contains several small typos in "Song" but not enough to warrant a revision yet. There is also an error in the credits of Zetsuai 89: Shou Hayami sings the songs in the feature, not Takehiko Koyasu, as said in the credits.



Wedding Peach

Wedding Peach 1-4
Rev. 1: (1997) This tape was used a long time, before being remastered.
Rev. 2: (May 18th, 1998)
Wedding Peach 5-8
Rev. 1: (April 3, 1998) I don't actually remember if any copies were made from this master. I think not. This was made before Jennifer had a chance to finish working on Hinagiku's dialog, so several lines were changed in Rev. 2.
Rev. 2: (May 24, 1998) Had some minor video problems, and the fonts weren't properly anti-aliased. So we went to the next revision.
Rev. 3: (July 28th, 1998) This revision changed little dialog, but the fonts and outlines look far better, and that annoying noise is gone. This was the first master tape we made on our AG5700 pro deck.
Wedding Peach 9-12
Rev. 1: (July 7, 1999) One of Pluie's lines which says "I will exterminate Love Waves..." should instead be "Go, exterminate Love Waves..." (he's talking to the Ojama, not himself). Not serious enough to be worth remastering.



The Shoujo Romance Double Feature Tape

Christmas in January & Sequence:
Rev. 1: (2-22-99) This looks pretty good, except that our translations for the songs for both features in this tape are very poor. We would redo this tape if we could improve the translation of the lyrics. Both the original translator, and Barbara, used far too much guesswork in translating the songs. However, some of the lyrics were incomprehensible, and no printed lyrics were available anywhere for these old features. At one point, we nearly skipped the songs altogether, but finally decided that any lyrics were better than no lyrics.



Memolu in the Pointed Hat

Rev. 1: (July 12, 1999) It would have been nicer to put a reminder in the introductory sequence that this tape also includes Dota Isamu's "My Memolu", the art film. However, it isn't a big deal.
One error is that a "special thanks to" in the fansub mentioned Alvaro Jimenez, of Peru. Though we have many things to thank Alvaro for, in this case his name was mixed up with Gustavo Martinez Lam, of Monterey, Mexico. Gustavo provided us with the Spanish-language tape of Memolu (La Magia del Titila), and we meant to thank him for that.
At the end of the tape, in the film special "My Memolu" you see Memolu bouncing on a cloud. She's supposed to say "fluffy!" there but that caption appeared earlier, out of place.

---
Techno-Girls Status
Question: What are they doing RIGHT NOW?
Answers:
(7-24-2022) SEVEN more years have passed! The Technogirls now consist only of me, Barbara. I told myself I would redo all of BDB when I retired, and have finally made some progress. Ep. 14 is done now, and I'll be moving on to ep 15. Details are in the Shoujo Anime Club group. This is a GoogleGroups group. For more information, see this link.
(7-28-2015) After an INCREDIBLE hiatus of 11 years, now we are back at it! First up is the complete Brother Dear Brother set with a newly edited translation (my Japanese skills having improved) on digisub files! These all will be given free to members of the Shoujo Anime Club.
(3-07-2004) We now have two volumes of BDB available on our DVD request site. At the moment we're working slowly on the final BDB volume while making new DVD's using our original SVHS master tapes.
(3-10-2002) We released BDB 33-35 today. At the moment work is divided between Ace, the new Mizuirojidai from DVD, and the final volume of BDB. One of the three will quickly become the next project to be released, but I'm not sure which.
(10-12-2001) We made a fansub of "Five Star Stories" using the ubiquitous Dallas Operator script. Time to go back to work on BDB 33-36.
(10-8-2001) Ace volume 1 is done, finally! Next is BDB volume 9, whose translation is done already. However, we'll take a couple of days to make a fansub of "Five Star Stories" optimized for 4:3 standard TV aspect ratio. Also, a few days ago our ISP, Tycho Net, pulled the plug on all their customers and Technogirls.org the domain disappeared from the planet for a week. But as you can see, we're back, after moving the domain to a new server.
(8-25-2001) Half done with Ace vol. 1. Work is going much faster now, since we seem to have gotten over some awful technical problems with bad SVHS decks finally. An AG-7350 is now our mastering deck, replacing the AG-7300 which wasn't Hifi. (We didn't know!) We expect Ace volume 1 in late September.
(7-12-2001) We have all but the last two eps. of BDB translated. The long-awaited rev. 2 of BDB 29-32 is done and a master is at Ken's so the many people who were impatiently waiting can finally see it now. This month we got some new tape machines to replace worn out ones. Tape masters will be made on an AG-7300 now. Work continues on Ace volume 1.
(6-1-2001) Rough version of Ace-TV ep.1 done, eps. 1-4 scripted, continuing to time eps. 2-4. New rev. 2 of BDB 29-32 done digitally (6 Mb/sec master.) Received scripts for BDB eps. 33-34. Gained much more experience making digital masters, which are a lot more tricky than one might expect at first.
(4-15-2001) Barbara finished translating and timing Sara ep. 1, and made a digital version of the first draft of the tape version of ep. 1. Also, we committed to doing at least eps. 1-4. (And thus probably the series.)
(3-30-2001) We had our official showing of BDB-8. We have a script for Ace TV1 ep. 1. We located an LD set for Ace TV2! And Barbara has nearly finished a translation of Sara 1.
(3-10-2001) With BDB volume 8 completed, we already are working on Ace TV-1 volume 1. We have a source for a script for BDB volume 9, and it looks like it could be done very quickly.
(11-24-2000) Thanksgiving weekend, and Romeo is done. Volume 8 is mastered. This is our first series completed. It took 4 years! Next: BDB volume 8.
(9-17-2000) We remastered Kiko-chan 1 before making the first copies, so that the first volume will be rev. 3. Also, the "Neighborhood Stories" project is reinstated, since Club A-Type will not be able to complete the project after all. And we decided to make a fansub of episode 1 of "Little Princess Sara" from DVD, without committing necessarily to doing the whole story.
(8-30-2000) Kiko-chan volume 1 is done! This was an interesting project. Next: Romeo volume 8, the final volume. This will happen fairly quickly, since the volume is already timed. Also, we decided to quit our "Neighborhood Stories" (Gokinjo Monogatari) project and sell our LD's to Club A-Type, who will work on it.
(8-3-2000) The long move is done! Barbara now lives on a large sloop berthed on the California coast. At this point, work is continuing on Kiko 1 and BDB 8 both. Which will get done first? We don't know...
(6-10-00) We're moving! This is the hardest move we've ever done. Everything is in boxes. Needless to say, not too much subtitling is happening at the moment. But this move will be over soon, and work will continue.
(2-25-00) Romeo volume 7 is done! Back to working on BDB-8. Also some work on Kiko-1 and Gokinjo-1.
(1-30-00) Ken Hardwick finished timing Romeo volume 7! We'll work on it soon. We're continuing to work on BDB-8 though. Ken may soon begin working on Romeo 8, the final volume.
(1-14-00) Happy New Year! We made an experimental digital fansub, one episode of "Kiko-chan's Smile", on CD, and gave it to several club members. Though it didn't play on all types of computers, it did well enough to show the usefullness of this medium. Club members in general liked the new anime, too. BUT... we're putting work on Kiko-chan aside for a little, because we have translations for BDB eps. 29-32 finally, so on we go with volume 8. After that, we'll finish up Kiko-chan, of which we had finished about half.
(11-19-99) Having BDB-7 done, finally, it's time to decide on what to do next. We might be able to start immediately on BDB-8. Kiko-chan ep. 1 is done, and its "test showing" was a hit, so we'll definitely continue work on it, but ep. 4 isn't translated yet. (Our new translator Chako Chavez is working on it.) We do have a script for BGY-4. Ken Hardwick's work on Romeo-7 may be a little delayed. "Umi-Yami" is probably going to be done next summer, as a Shoujocon exclusive feature. I'm a little demoralized at the Wedding Peach fansubs which are starting to circulate, which make ours a bit redundant or out of sequence -- I didn't expect that -- so we may drop season 1 as a project. On the other hand, we have Neighborhood Story as a new project, "inherited" from Pakman. So, all in all, things are undecided at the moment.
(9-7-99) Romeo 6 is done! Now back to work on BDB-7. We hadn't gotten far. Perhaps the late October it will be ready. That's an optimistic guess.
(8-27-99) We're putting BDB-7 aside for a moment, in order to finish Romeo 6.
(7-12-99) Wow, "Memolu " is finished!! And now, with all of "Brother Dear Brother" volume 7 already translated, we'll begin working on making the fansub. A lot of "Brother" fans are pushing us to get it done as soon as possible.
(7-7-99) Peach 3 being done, now we'll finish up work on Memolu. That shouldn't take too long, hopefully.
(2-22-99) Finally "Shoujo Romance Double Feature Tape 1" is finished! The next project will be volume 3 of Wedding Peach. We'll start on that within a week.
(2-20-99) Sorry about being slow with "Romance Tape 1" -- the translation for "January Christmas" needed work, and there was a slight shortage of spare time. But it's done! Now we're working on its companion feature, "Sequence." We've also decided NOT to work on "Garasu no Kamen." On the other hand, we added a new project, "Aim for the Ace!" aka "Ace wo Nerae!". Take a look.
(12-18-98) We're working on "January Christmas" and we just made a new Karen page.
(12-6-98) Wow, Romeo volume 5 is done! Thanks to Ken Hardwick who slaved over the timing for weeks. Next project? It'll have to be "January Christmas" since we promised to have it done by New Year's Day, and December is a very short month. This tape also includes "Sequence". Apologies to long-waiting Wedding Peach fans...
(11-27-98) BDB-6 is done! Whew!
(10-18-98) Our club decided that BDB-6 will be done next! So, it's started. This will take 3-5 weeks.
(10-10-98) Bluegreen Years volume 3 is done. What next? Don't really know yet... our club is taking a vote now. Choices are "Memolu", BDB-6, WP-3, and the Love tape with the two shoujo romances. It looks like the choice will be between BDB-6 and WP-3.
(9-20-98) Wow, Romeo 4 is done, so it's back to working on BlueGreen volume 3!
(9-14-98) We suddenly switched projects, and decided to finish Romeo volume 4 before finishing BGY-3.
(9-4-98) Continuing to work on BGY-3. It's going very well. Anna's script is exceptionally good.
(8-11-98) Finally, we finished BDB-5! One of the most difficult fansubs we've ever done. The next project: BlueGreen Years volume 3.
(7-17-98) I apologize for not getting enough done recently. There simply hasn't been much time available for fansubbing! But work does continue.
(5-28-98) After finishing BDB-4, we find we only have one fully-translated unsubbed volume at the moment, so that's all we can work on: BDB-5. Romeo-4 is still being timed, and our main translator isn't able to start on Peach-3 yet, and BGY-3 is still being translated. So, BDB fans will get a treat, and not have to wait as long!
(4-24-98) We redid the organization of the web page, so that it didn't take all day to load the main page. BDB4 is still in progress, as well as Romeo 4 and Sequence. (Volunteers are timing the latter two!)
(4-4-98) Whew! We really pushed to get WP-2 done this quickly. Work is continuing "in parallel" with Romeo 4. So what next? BDB-4 of course! Yay! But things will go slower, since Barbara needs to return to work and earn a living...
(3-28-98) BGY-2 is done! Work is now progressing on BOTH of Romeo 13-16 and Peach 5-8! Which will be done first?
(3-14-98) Barbara is nearly fully recovered, and we are now in the final stages of mastering BGY-2.
(2-26-98) Unfortunately, Barbara became very ill during February and was hospitalized. This caused all work on projects to stop. However, she's recovering nicely now and is already back at work on BGY-2.
(1-24-98) Still working on BGY-2, but going slowly -- we have to move again, and several other crazy events here have been soaking up all our free time recently!
(1-1-98) Timing "BlueGreen Years" 5-8.
(12-21-97) Starting on preliminary work for "BlueGreen Years" 5-8.
(11-12-97) Finishing up the timing on the script for "Brother, Dear Brother" 9-12.
(9-29-97) Well, we are nearly done with our enormous tape request backlog. And having finished "Zetsuai 1989" and "The Song of the Wind and Trees" we're ready to move onto more fansubbing.
(8-10-97) Moving! Very little work can be done at the moment.
(8-3-97) Zetsuai-89 is subtitled now, but we won't do any copies until its companion show "Kaze to Ki no Uta" is finished as well. We are timing it now. When both are done they will be our "Shounenai Classics" tape.
(7-27-97) Family and personal events are reducing our time available to work on projects to a bare minimum at the moment. Still working on Subsonic and Zetsuai 89.
---
Our So-called Schedule...
Bear in mind that we often miss projected dates. This is only a hobby! This section contains some very fragile guesswork regarding when we can get to these projects. But it will be updated regularly to reflect changes, which will occur often.
Before, only regular projects where listed here... but now all our active projects are listed, including our "secret" ones.



--- The Next Features Might Be: ---

"The BlueGreen Years" 1-4 (Redo of vol. 1, from DVD source!)
"The BlueGreen Years" 13-16 (NEW volume, from DVD source. Translation done, fully sponsored, partly timed.)
"Aim for the Ace!" 5-8 (translation done)



--- After that: ---

"Brother, Dear Brother..." 36-39 (End) (Being translated by Tomoko)
"Little Princess Sara" TV 1-4 -- Sponsored. Ep. 1 done, rough digital master made. On hold until 3 more eps. are translated. This former single-episode project became a series project.



--- Then later: ---

"Darkness of the Sea, Shadow of the Moon" 1-3 (part 1 translated by Tomoko; parts 2-3 translated by Naomi, all parts ready for timing by Barbara.) Fully sponsored. Unscheduled. Kuromaku loaned us his incredibly rare LD for this!



--- Unscheduled, But May be Completed Sooner Than You'd Expect! ---

"Kiko-chan's Smile" 5-8 (Being translated by Naomi.) Sponsored but unscheduled.
"Nightsong of Splendor" OAV's 1-4 ("Kasei Yakyoku") No sponsors yet. No scripts yet. Unscheduled.
"Oshare Kouzou wa Hana Maru!" OAV, also known as "A plus for the Fashion Boy" or "The Fashion Boy is Cool". We'll be working from the Tomodachi script, but the title will be different.



--- Not actually scheduled yet, but planned for the future ---

"Kiko-chan's Smile" 9-51 -- We won't commit to this until we get more feedback from fans. We'll do the first 8 episodes for sure.
"Aim for the Ace!" 9-26 -- Unscheduled.
"Wedding Peach" 27-51 -- Because some fansubbers are circulating fansubs of volumes we had planned to do in season 1, we tentatively planned to begin working on season 2 instead. We intend to wait until the licensing status of Wedding Peach is more certain, since rumors of its acquisition are persisting.
"The BlueGreen Years" 17-47 -- We haven't committed to finishing this series, though we hope to do so.
"Neighborhood Stories" 1-4 -- We inherited this project from Pakman. Two or three other fansubbers intend to work on this. That's fine, as long as they get it done. We still have the laserdisk set here, in case they don't.
---
Featured Music

In most of our fansubs, we do an introductory sequence, consisting of fan info, credits, references, analysis, and other information. Accompanying the sequence is some music, sometimes, but not always, taken directly from the show.
I'm especially trying to expose others to some of the wonderful sounds to be heard in Japanese Enka music. Some fans have already written (mostly from other countries) asking where they can purchase these albums, so I guess the music is being noticed! As with some of this anime, Japanese music companies wouldn't expect Enka music to have much of a market outside Japan. They don't even bother writing the performers names in romanji on the albums, even, and that is a certain sign that they don't plan to sell any of them overseas. Let's prove them wrong! For general information on these and other Enka artists, see our new Enka page .
Here is a list of the featured music for each fansub in the cases where the music doesn't come directly from the show itself.

------- JAPANESE ENKA MUSIC -------

"Brother, Dear Brother" 9-12: Yoko Nagayama (two albums)
"Brother, Dear Brother" 13-16: Kaori Kosai from her "Best Collection" album. (POCH-1526)
"Brother, Dear Brother" 17-20: Sayuri Ishikawa from her "Super Best" album.
"Brother, Dear Brother" 21-24: Fuyumi Sakamoto from her "Zenkyokushuu" album. Plus, a video clip from Sakamoto-san's appearence on the "Music Fair" TV show.
"Brother, Dear Brother" 25-28: Toshimi Tagawa singing Yoko Nagayama's hit song "Suterareta". ("Left behind.")
"Brother, Dear Brother" 29-32: Ayako Fuji singing "Yuki Shin-shin". ("The Sound of Falling Snow.")
"Brother, Dear Brother" 33-35 Hibari Misora singing her anthem "Kawa no Nagare no Youni".

------- JAPANESE POP MUSIC -------

"Brother, Dear Brother" 1-4: Takako Shirai and the Crazy Boys: "Cosmic Child"
"Brother, Dear Brother" 5-8: Kanako Wada: "Ano Sora wo Dakishimete"
"Wedding Peach" 9-12: Yuko Miyamura: "Kanon"
"Kiko-chan's Smile" 1-4: Yoko Minamino: "Silent Holy Night"
"Aim for the Ace!" 1-4: Various excerpts from the wonderful albums of Midori Karashima.

------- CLASSICAL MUSIC -------

"Song of the Wind and Trees": Chopin: Etude Opus 10 number 3, for piano.

------- OTHER MUSIC -------

"Memolu of the Pointed Hat": We used the opening theme song, "La Magio De Titila" from the Spanish version of the show during the introduction. Thanks to our club member Gustavo who sent us one of the Spanish-language tapes of the show.
---
Digital Mastering Techniques
Our voluminous page of notes on analog (tape) equipment used in fansubbing has moved to this location in order to reduce the size of this document.

As of 4-30-2001, we are using digital mastering techniques.
We did a lot of experiments attempting to master fansubs digitally. Now, finally, we've switched to this method for all future fansubs.
Up to this point, results were poor. From what I hear, a lot of others were getting poor results too. But due to some new breakthroughs, it looks like semi-pro quality results can be achieved using affordable equipment. Please note that we are NOT "digisubbing" in the sense of making junk digital anime clips to distribute on the Internet. The term "digital master" (or HBRDM ) refers to a master recording of a fansub which has been subtitled at high bit rates and high resolution without ever recording on videotape. The digital master which results is a set of very large digital video files on hard disk which when played back show the fansub, allowing tapes to be made during the playback. Such tapes can be described as "master tapes" since they are the first tapes in the process and they are better quality than a copy of a from-analog master tape.
The HBRDM is a set of files totalling about 4 to 5 gigabytes in size. This gives results nearly comparable with DVD quality. Since Windows 98 can't open any file over 2GB in size, a key part of the fansub master recording is a play method which can easily play several files in succession. The play method we're using now is Windows Media Player version 6.4, whose ".asx" playlist file can list the component files of any particular recording. This allows one to escape the 2GB file size limit because now the playback can be a list of several files. Below is an example of the format. This is the actual ASX file which Media Player follows in our computer to play the mpeg2 files which make up the "Aim for the Ace" 1-4 fansub:

<Asx Version = "3.0" >
<Entry><Ref href = "a01a-nus3db-f26.mpg"/> </Entry>
<Entry><Ref href = "a01b-t2-chop-nus-f29.mpg"/> </Entry>
<Entry><Ref href = "ace02a-f30.mpg"/> </Entry>
<Entry><Ref href = "ace02b-f30.mpg"/> </Entry>
<Entry><Ref href = "ace03a.mpg"/> </Entry>
<Entry><Ref href = "ace03bfix2.mpg"/> </Entry>
<Entry><Ref href = "ace04a-nus.mpg"/> </Entry>
<Entry><Ref href = "ace04b-nus.mpg"/> </Entry>
<Entry><Ref href = "\fansubs\video\bdb-v8\signoff.mpg"/> </Entry>
<Entry><Ref href = "\fansubs\video\bdb-v8\20-sec-black.avi"/> </Entry>
</Asx>

Being able to use aggregates of files over 2GB was a key to making the process practical, because even though 2GB sounds like a lot of data, it caused motion artifacts to appear in recordings of a two-hour feature, degrading the picture. However, at the higher bit rate of 5GB per 2 hours, motion artifacts and pixellation are nearly undetectable even on very close examination. A by-product of splitting the files into small ones is that they can be under 650MB, so that they can fit on a CDR. For TV animation, the component files of the digital recording are about 300-650MB size per half of a typical anime episode (11-14 minutes). In addition, the typical Technogirls fansub has one or two "slideshow" style video segments containing additional credits, music, notes, commentary, cultural information, and anything else which seemed suitable to include. These custom segments are 200-500MB in size. A typical 4-episode fansub with one introductory sequence then can be stored on 9 CDr's. At $1.50 per CDr, this is about the same cost as mastering to a broadcast SVHS tape, but far higher quality and durability.
The method we eventually decided to use for encoding involved using "TMPGENC", a fine encoding utility, to produce MPEG-2 files. This is the same encoding method used on DVD's, but instead of making DVD-style VOB files to be played using a DVD player, we are making a set of MPEG-2 files to be played in Media Player 6.4 using the PowerDVD codec.
Another key is in the process itself. It turned out to be critical to allow lossy compression ONLY one time. Multiple compression significantly raised the noise level and created ugly artifacts which could not be removed. Acquiring video at about a 800MB per minute data rate (storing video in "Raw Indeo" format) requires a hard disk drive which can transport video data without interruption for at least 27 minutes. For that, I'm using an older model Seagate Cheetah hard drive, 36GB size. This is a LVD SCSI interface drive which operates with a 80MB/sec data rate from buffer, and sustained data rates at inner diameter (minimum sustained data transfer rate internal) of over 25MB/sec. Note: the latter specification is the critical one. Most disk drive manufacturers won't reveal that data rate because they cannot compete with fast drives made by Seagate (Cheetah), Quantum (Atlas 4) and now some drives by IBM. All these drives have a rotational speed of 10000 rpm or better. Also note: IDE drives, regardless of their "published specifications" are a poor choice or completely unusable for these applications. Large, cheap IDE drives should be purchased for bulk memory storage only.
The computer is a 1000Mhz AMD Athlon-based PC (400Mhz Pentium 3 is NOT fast enough), with Adaptec scsi controller card, Turtle Beach Montego 2 sound card, 3com network card, ATI "All in One" 16M AGP video card, TView output video PCI card, 390 Meg DIMM memory (128 Meg is NOT enough memory), Cheetah 36G 10Krpm drive, Yamaha SCSI CDRW drive, and Hitachi 2050 SCSI DVD-RAM drive.
Video is captured in 640x480 size, 29.97 frames per second, with sound in native 44Khz stereo PCM, in sequential files about 2GB in size, using AVI-IO and the ATI All-in-One video/capture card. Following acquisition of video from the original video source (LD, DVD, etc) the subtitles are combined with the source video using the VirtualDub program and Subtitler Plug-in. These breakthrough software applications make the process possible. After adding the subtitles, additional editing, overlays, fades, tags, and audio processing are done using the video editing utility Adobe Premiere in Video for Windows 640x480 mode. Intermediate video is saved using a "lossless codec" (HuffYUV) to prevent encoding artifacts from appearing later. Then, the subtitled video files are converted to MPEG-2 using TMPGenc, while also implementing an inverse telecine (in the case of anime) with deinterlace filtering as needed. A noise filter (50%, 1-wide, with 40% temporal smoothing) and a line sharpening filter (20%, low) are sometimes added. For anime, the inverse telecine converts the frame rate to a syncronized 23.98 frames per second, matching the underlying film frame rate. Inverse telecine is critical -- the DVD encoding requires that playback be done with a "pulldown" to 30fps, but all of the old 30fps artifacts have to be removed for the result to look natural. Experience seems to show that there are a hundred mistakes one can make doing inverse telecine which will ruin a project, so extreme patience and care is required.
As a final step, the file names are saved in a "*.asx" playlist file (see above) so that Windows, on executing the file, calls Media Player, which plays the files in succession. There is about a half-second pause between files, and during that time the screen is normally black. This doesn't interrupt the program if the cut points are chosen carefully to be "fade-to-black" times.
Playback is critical. The ATI card and most of the other capture cards currently available have poor playback capability. We do playback using the Videonics "TView Gold PCI". This card is the first one I've found which produces acceptable output video, though it certainly isn't a product without its own faults. First, its documentation is a joke -- it's a pdf file on a CD, and the pdf gives the hapless user no clue how to set up the card to produce the results so loudly advertised in the glossy sales literature. Furthermore, the control software is crudely and inappropriately designed, and isn't really usable either. It took many hours of experimentation to achieve results. This required making a test pattern to adjust the vertical size to result in a line-by-line transfer. Once the size exactly matched the critical one, vertical resolution was achieved without artifacting. Then, the horizontal size could be adjusted. Following that was a long series of tests of brightness, contrast, and color intensity to get a natural transfer. The "neutral" settings are not even close to the ones which produce a natural picture. As a final touch, the documentation fails to mention the critical fact that unless you set your monitor refresh rate to exactly 60Hz you cannot get a syncronized transfer of digital video at all. 60Hz is no longer a standard or default setting for video monitors, so thousands of users of the unit will be disappointed at the results when they try to make it work at other refresh rates. It was also important to use the native avi size -- that is, to show a 640x480 avi using that screen resolution.
At any rate, our results are quite good. There are no significant playback artifacts. The result is indistinguishable, to my eye, from the LD source. Captured individual frames of the recording look clean and undistorted, and virtually without "blocky" pixellations or quantization error, except for some barely visible boundary noise near the overlaid captions.
For others attempting to reproduce these results, let me offer a warning that the process is a technical "house of cards." That is, a single deviation from the optimum can ruin the whole video. (Just as removing a single card causes the "house" to collapse.) Other amateurs are cautioned about assuming that substituting other codecs, hardware, etc will work just as well. Only patient and time-consuming experimentation can guarantee good results. In my case, it took about 75 hours of experimentation to arrive at this method, along with many hours of critical study of output video -- a study which I and most other amateur video hobbyists are not used to doing. Developing the "eye" to see spacial and temporal faults in video is an important part of the amateur digital masterer's "tool box". Without it, you may make video which is disliked by others, and not until later will you actually perceive the problems which are bothering viewers. So my advice to others is to take it slow and be extremely critical. You can't set a system up to do this in a single weekend.
All our fansubs will be mastered using this method in the future. This will result in improved tapes for everyone, and master tapes which are easy and reliable to make, almost as if they were taken directly from a DVD source. Of course, the video quality is limited by the source video still -- a "from broadcast" video source won't look like a DVD using this method, but at least it will look as good as possible and it will still enjoy the other benefits of being on a digital master.
I'm sure that others will be trying this technique too. When done well (remember the "house of cards" effect) it's an advance in quality, but it suffers badly from mistakes. A frustrated fansubber, after redoing their video a dozen times, may be tempted to just say "that's good enough" and give up, even with poor results, and that isn't good. Furthermore, if this method becomes popular, I can see that "digitally mastered" will become a term on fansubber lists. To avoid confusing it with "copied to tape from downloaded digisubs" I want to propose that persons provide the overall bitrate for the source video. In the case of what we're doing, at 500 megabytes per 12 minutes, that equates to 4000 megabits per 12 minutes (1 megabyte = 8 megabits). 4000/720 gives 5.5 megabits per second bit rate. An average digisub is 80 megabytes per 25 minutes, which is 0.42 megabits per second. The bit rate we're using is over 10 times larger. (Note that the average fansub is small format too, 320x240, low resolution, and cannot be used to make an acceptable video tape.)
I don't want people to be digitizing our fansubs and then downloading them and copying them to tape and calling that a tape from a "digital master". If I were to draw a line in the sand, I would say that a "digital master" should be 3 megabits per second minimum, and at 640x480 resolution minimum. Our own "HBRDM" fansubs will be at least 5MB/sec, 24fps, 640x480, 10-bit color. My intent is to separate the junk digisubs from true never-on-tape digital masters, and head off some of the fraud which is so widespread in the Internet's fansub lists, where the word "master" has come to mean nothing more than "a good tape" and the letter "A" could mean a tape that is only halfway watchable. The Internet is a place where one can sometimes cheat others with impunity, and so it is the perfect test of character. DON'T be someone whose personal integrity is worthless. Be exactingly honest with the fansubs you list. If you list our fansubs, we'll expect absolute honesty from you, otherwise you'll hear from us.
We won't be "distributing" the HBRDM's. Since each fansub would take 9 CD's or so, it isn't really practical. We'll use this method to make "master tapes" instead, for our club. Hopefully, this will result in very high quality tapes, like the ones that Tomodachi made.

A summary of our method as of 10-12-2001:
1. Acquire video by capture (Indeo Raw format, 640x480, 18GB per episode) or by DCSS (output from Flask in Huffyuv avi format, 640x480, about 12GB per episode.)
2. Extract a sound file for timing.
3. Time and edit the script using Subsonic.
4. Convert the Subsonic script to SSA format using S2SSA.
5. Imprint the subs on the source video using VirtualDub with the SSA-sub plugin. The output is saved as another set of Huffyuv 30fps Avi's, usually 6 files per episode totalling about 12GB.
6. Load the avi files into Adobe Premiere 6, and add special titles, fades, effects, tags, warnings, etc. Save as 30fps Huffyuv avi's again, about the same size.
7. Convert the subbed video to Mpeg-2 using the program TmpgEnc in constant-quality, 6000kbps max, 60%, with the GOP="IPP". Also used is an adaptive inverse telecine with deinterlace to convert the 30fps video to the native 24fps film form. Additional filtering: light anti-noise, plus a slight color correction (boosting red to fix a problem in the video out system.) The output files are essentially a DVD. The DVD is encoded for "3-2 pulldown" on playback.
8. Save the DVD file set on a DVD-RAM, and create a suitable ".ASX" file listing the component files (see above for example.)
9. Play the DVD using the PowerDVD codec while making the SVHS tape. Generally this can be done directly in Windows Media Player version 6.4. The display is set to 640x480, 60Hz refresh, 32-bit color.
Beginning with BDB volume 9, we make digital masters as standard DVD's. Here is a summary of our method as of 4-30-2002:
1. Acquire video by capture (YUV12 format, 720x480, 18GB per episode, sound 48kbps stereo). I use a ATI Rage Expert AIW card for capture, and the program AVI_IO.EXE. This method is better than DV-type methods when the source is LD or a tape. (When the source is DVD, I don't use capture, I rip the DVD stream and convert it into an AVI.)
2. Save a sound file for timing.
3. Time and edit the script using Subsonic. This is our own program. For others, I recommend Substation Alpha.
4. Convert the Subsonic script to SSA format using the S2SSA utility. This is only needed if you did the original script in Subsonic, of course, so most people won't need this step. This only takes about 5 seconds.
5. Imprint the subs on the source video using VirtualDub with the SSA-sub plugin. The output is saved as a set of 30fps Avi's using the HuffYUV codec, a lossless codec. There are usually 6 files per episode totalling about 12GB.
6. Load the avi files into Adobe Premiere 6, and add special titles, fades, effects, tags, warnings, etc. Save as 30fps Huffyuv
avi's again, about the same size. Again, since I do all my work in Windows 98, I'm limited to 4G file sizes, so the raw and semi-raw video has to be split into multiple files.
7. Load the files into Virtualdub again and activate the "frameserver" function in Vdub's file menu. This is because we use multiple files per episode, and TMPGenc, the target program, doesn't support multiple file input (yet).
8. Start Tmpgenc and using the frameserved video from Vdub, convert the subbed video to Mpeg-2. I use the 24fps NTSC 3:2 pulldown mode for all animation, like the professionals use, which reduces noise and gives a higher bandwidth. [In Tmpgenc, set frame rate to "23.976", video format to "NTSC", encode mode to "3:2 pulldown in playback"] This requires using the "inverse telecine" function in Tmpgenc, NOT a function that is quick or simple to get skilled at using. (warning!) But as a starter for others, I usually use the automatic method with these settings: threshold about "60", deinterlace as "odd field, adaptive". I normally encode using the constant bitrate setting. The bitrate can be figured this way: divide the number 617000 by the total number of minutes in your video. Subtract the bitrate of the sound (I use 256 kbps Dolby Digital), and that is the bitrate in kbits per second to set in Tmpgenc. (approximately) However if the bitrate exceeds 9600kbps using this calculation, you will probably need to limit it to that amount maximum.

---
It Can Take a Long Time to Make a Fansub

Fansubs take a LOT of time for us, perhaps more than average. This kind of work could be done in a hurry -- and often is. But in a life where we are pressured continuously to produce faster and faster by overlooking quality problems, it is a special pleasure to be able to choose one's own pace and one's own quality standard. The tapes we make have their quality limited by our abilities and our budget, not by deadlines for the most part.

Here are some figures on what it takes to make a fansub for us. This does NOT include any part of the translation, or networking time.

Initial research: 1 to 12 hours.
Editing and Timing, per 4 episodes.
Timing only; no script editing: 9 hours. ("BlueGreen Years" 100% Anna Exter version)
Timing with minimal editing: 18 hours ("Romeo's Blue Skies")
Timing with detailed editing and some screenplay rewriting: 26 to 30 hours ("Wedding Peach")
Timing with complete rescripting and "artistic" editing: 40 hours ("Brother, Dear Brother")
Timing with detailed scripting and initial setup, with lots of initial research: 65-90 hours ("Song/Zetsuai")
Title design including introductory sequences:
Minimal ("Romeo's Blue Skies" first 3 volumes) 1.5 hours.
Typical ("The BlueGreen Years"): 5 hours.
Elaborate ("Brother, Dear Brother"): 9 hours.
Mastering and final editing: 4 to 15 hours.

All together:
An easy tape: 27 hours ("Romeo's Blue Skies")
A typical tape: 45 hours ("BlueGreen Years")
A difficult tape: 75 hours ("Brother, Dear Brother")
A first tape of a series: 65-125 hours ("Wedding Peach" vol. 1)

---
Myths

(1). The Techno-Girls subtitled "Rose of Versailles" but under a different name.
Not true at all. In fact, all our tapes have a certain style in common. You can always tell if we subbed something even if we didn't admit to it.
(2). The Techno-Girls subtitled "Vampire Princess Miyu" TV 1-4.
Not true. The fansub is clearly marked as being the work of Kyo and Kuromaku. Barbara did translate and time the commercials at the end though, and provided the original source tape to master from. We also prepared the source tape for volume 1 of "Hana Yori Dango" done by Pakman. It's fun working with other fansubbers like that but they deserve the credit.
(3). The scripts for Wedding Peach were just the ones available from the Web.
No. We translated our Wedding Peach scripts independantly. Check them, and you'll see how different they are. However, when questions came up for a few lines, we did take a look at the interpretation given by Kaori Idehara in her original scripts, with permission of the script owner. In volumes where we did that, Kaori's name is given in the credits as "Additional material translated by...". Furthermore, we referred to Kaori's unedited scripts, which are not the edited ones posted on the web. Our sponsors wanted us to translate and edit these episodes ourselves, and that's what we're doing. Volume 3 was translated by Naomi Shalowitz and Tomoko Motooka.
(4). "Zetsuai 89" and "Bronze: Zetsuai since 1989" are the same.
These are two different animes! We subbed the first, and the Lupin Gang subtitled the second. We have never packaged the two OAV's together -- if you find them both on the same tape, it is because someone else "repackaged" the shows on our original "Two Shounenai Classics" tape which consisted of "Song of the Wind and Trees" and "Zetsuai 89." The OAV "Bronze: Zetsuai since 1989" is the sequel anime to "Zetsuai 89". It makes sense to put them both on the same tape, but we've never done that ourselves. Nevertheless, be sure to see them both if you've only seen one. The Lupin Gang fansub of "Bronze: Zetsuai since 1989" is excellent. Also, note that there is a fansub of "Zetsuai 89" by "Nanjo Koji Fan Club". We had nothing to do with that fansub, and don't know anything about it. You can easily recognize our version, since our version is the only one where the songs are translated.
As of Fall 1998: we have given our timed script to Lupin Gang Anime so that they can make a fansub of "Zetsuai 89" themselves. This fansub will probably begin being seen on fansub lists eventually as being done by "Lupin Gang Anime." Chances are that they will package it with their own fansub of "Bronze: Zetsuai since 1989."
(5) "The Technogirls are closed forever."
Amazing how something as simple as moving a web site can cause outrageous rumors to start. As you can see, we're still very active. Our links on Anipike were all wrong though, and pointed to tgnet.com, a domain which got grabbed by a domain name investor as soon as we let it expire. Anipike had decided they couldn't keep up with the change rate of links, and we couldn't get our links changed promptly because they only accepted a small number of link changes per week. As a result the number of dead links on Anipike mounted fast, but many of those pages, like ours, existed on different servers. If site owners could get Anipike to update the links promptly, you could find them! Try locating them using Altavista or Google instead.
(6) "How can I find the Oniisama-E OAV's? Are you working on them?"
Another Internet rumor. Someone saw some French language videos of "Cher Frere" and thought they were OAV's. This got put into one of the early Oniisama websites as fact. However, no such OAV's exist. However, there WERE 8 "review" episodes -- videos made by editing the original episodes and crunching them together. But they contained no new material, and we don't intend to subtitle them. They were originally "fillers" in the NHK schedule.
---
Our Translators
---------- Active: ----------
Manami Kudo
"Aim for the Ace!" eps. 1-8
Tomoko Motooka
"Brother, Dear Brother" Eps. 33-38.
"Wedding Peach" eps. 11-12
"Darkness of the Sea, Shadow of the Moon" ep. 1
One commercial on "BlueGreen Years" volume 3
Chako Chavez
"Kiko-chan's Smile" ep. 4
Barbara Chambers
Little Princess Sara: episode 1, plus the Op and Ed songs
Two songs in "Zetsuai 1989" OAV
Op song #1 for "Kiko-chan's Smile"
Commercials in "Vampire Miyu 1-4" (as subbed by Kuromaku)
Small portions of "Christmas in January" and "Sequence"
Angeletta's farewell song in "Romeo's Blue Skies" ep. 23
Naomi Shalowitz
"Wedding Peach" Eps. 1, 3, 5-8, 9-10
"Song of the Wind and Trees" movie
"Darkness of the Sea, Shadow of the Moon" ep. 2-3
----------- No longer active: -----------
Yoko Okamoto and Ken Koga
"Brother, Dear Brother" Eps. 1-32.
Songs in "Brother, Dear Brother"
Ben Ettinger
"Romeo's Blue Skies" Eps. 1-33 entire series.
Op and Ed songs in "Romeo's Blue Skies"
"Memolu of the Pointed Hat" video compilation
Anna Exter
"The BlueGreen Years" 1-4, 9-12
Part of "Kiko-chan's Smile" ep. 1
Op and Ed Songs in "The BlueGreen Years"
Emi Evett
"Kiko-chan's Smile" ep. 1-3
Op and Ed songs for "Kiko-chan's Smile"
Chiyoko Ishikawa
"The BlueGreen Years" eps. 5, 7, 8
Keiko Noui
"The BlueGreen Years" ep. 6
Yoshie Nishida and Brian Wanamaker
"Wedding Peach" Ep. 4
Machiko Cyr
"Wedding Peach" Ep. 2
Op and Ed Songs in "Wedding Peach" season 1.
Kaori Idehara
Additional material in "Wedding Peach" 9-12
Cho-Berigu Translations
"Sequence" OAV + song.
Ed song in "Christmas in January"
---
Commercially Released Shoujo Anime
List of Some Commercially Licensed Shoujo Anime:
Sailor Moon
Koko Wa Greenwood (Here is Greenwood)
Kizuna
Vampire Princess Miyu
Leda: the Fantastic Adventure of Youko
Omoide Poroporo (Memories like Teardrops)
RG Veda
Curse of the Undead Youma
Explorer-Woman Rei
Mimi O Sumaseba (If you Listen Closely)
Darkside Blues
Mother (E.Y.E.S. of Mars)
The Heroic Legend of Arislan
Doomed Megalopolis
X (The Movie)
Please Save My Earth
Tokyo Babylon
They Were Eleven
Fushigi Yuugi
Shoujo Kakumei Utena (Girl Revolutionary Utena)
Vision of Escaflowne (can be considered to be BOTH shounen and shoujo)
Magic Knight Rayearth
---
Glossaries
This tiny glossary is for some special terms used in this web site. For other terms try the amazing encyclopedia at the Japanese Cultural Details in Anime and Manga site.
Anime Genres Glossary:
SHOUJO: Manga or Anime which was originally marketed to girls or ladies. The content is superfluous -- it is the marketing intent, not the content, which determines whether a feature is shoujo or shounen. All our features are shoujo anime except for the World Masterpiece Theatre features ("Romeo", "Sara") which do not fit any standard category.
SHOUNEN: Manga or anime which was originally marketed to boys or men. As above, only the marketing intent matters, not the content. Examples: "Dragonball", "Video Girl Ai", "Maison Ikkoku".
CROSSOVER: Manga or anime which attempts to address both a shoujo and shounen market (at the SAME time) -- a relatively new development in Japan. "Escaflowne" is an example.
YAOI: shounenai anime (or manga), always of the shoujo classification, in which there is little plot or action except for a sexual encounter between two males, one of which is usually bishounen. Example: "Level C".
YURI: shoujo anime (or manga), which involves romance between two women. This does NOT include "lesbian" scenes in shounen anime or manga which are intended to interest male viewers -- such anime is properly referred to as "hentai" not "yuri". Yuri features are very uncommon. In fact, true Yuri anime may not really exist at all.
SHOUNENAI: A shoujo feature in which the plot concerns a romance between two males, one of which is often, but not always, bishounen. May have little or no sex at all. Yaoi features are always shounenai, but not the reverse. Example: "Zetsuai 89".
BISHOUJO: A pretty female character. The term "bishoujo anime" has come to refer to "pretty girl" anime made for boys. Therefore, it is it is important to stress that "bishoujo anime" is NOT "shoujo anime". It is "shounen anime", made for a male audience. Some subtypes of "bishoujo anime" are "ideal girlfriend anime", in which there is a girl who is just so perfect in every way that boys can't help but fall for her, and "girl next door anime" about the girl that the boy grew up with, and has a special bond with even though many other girls are also available. Bishoujo anime is usually romantic, and may be pornographic sometimes too. Examples of "bishoujo anime" might be "To Heart" or "Video Girl Ai".
BISHOUNEN: A male character who appears to be feminine or androgynous or to have very very delicate, refined, cute features. Mostly in shoujo anime ("Weathering Continent", "Fushigi Yuugi"), but can appear in Shounen anime too ("Mahou-tsukai Tai"), usually in a comic manner. Can also appear in crossover anime ("Vision of Escaflowne", "Five Star Stories"). Bishounen characters may crossdress or behave in a feminine manner, or be portrayed as gay. They are by no means always gay, but if a gay character is represented, they are usually bishounen. (Rare exceptions -- the best one is "Video Girl Ai", a shounen feature, with a "probably gay" character who is not bishounen. The author and producers are to be praised for their non-stereotypical treatment there.)
Ed -- the ending song.
Dodging -- the practice of moving a caption away its usual spot at bottom center so that you can get a better view of the artwork. Often this is needed during closeups when a caption would be on top of the speaker's mouth. Though we didn't originate this idea, we were the first to use it a lot in fansubs.
Henshin -- a transformation scene.
Kamishibai -- "sliding paper cinema." A presentation of a story with pictures on sheets of paper or even in a little "portable theatre" like a slide show.
HBRDM -- "High Bit-Rate Digital Master" -- this is the term we're using on the website for the MPEG-2 DVD's which are used as the source for making master tapes. "High Bit-Rate" in this case means greater than 5000 kbps. An HBRDM is also always "full resolution" meaning that it is 720x480 or 640x480 (for NTSC video) or better. An HBRDM is very different from a "digisub", which is usually a Divx avi or Mpeg-1 file about 500kbps and usually 350x240 or less resolution. Masters cannot be made from digisubs, regardless of what some fansub "distributors" may say on their web sites.
Image Song -- a song meant to convey the personality of a character in the show -- it is sung by the actor who played the part, and it is meant to be sung "in character" -- that is, with the character's voice and inflection and personality. Some seiyuu can do this. Other seiyuu can't -- but try anyway! Results can be pathetic and humiliating -- or surprisingly good. Alternate definition: any song which appears on an album designated an "Image Album." Note that this use of the word "image" is really not the best choice -- the Japanese mean to convey the idea of "portrait" not "image".
Op - The opening song, or theme music.
Seiyuu -- voice actor. An actor/actress who does the voices of anime characters or who overdubs voices in foreign films.
---
Technogirls Firsts

(1) 1996: The first fansub supported by open sponsorship: "Romeo's Blue Skies".
(2) 1996: The first World Masterpiece Theatre fansub: "Romeo's Blue Skies" vol. 1.
(3) 1996: The first titling software with embedded wavefile timing support: "Subsonic" version 1.1. (but SSA was the first to be released. Subsonic has not been released publicly.)
(4) 1997: The first Dezaki/Sugino fansub: "Brother Dear Brother" volume 1.
(5) 1999: The first amateur video Enka collection for US fans: "Enka Collection #1".
(6) 1999: The first fansub made directly in large format MPEG-1: experimental fansub of "Kiko-chan's Smile" #1 (for the Shoujo Anime Club only.) This "record" seems doubtful.
(7) 2000: The first World Masterpiece Theatre series fansubbed from start to finish: "Romeo's Blue Skies".
(8) April 30, 2001: The first fansub mastered in DVD format, "Brother Dear Brother" vol. 8 (Possibly Shogun Anime was attempting to do the same thing around the same time.)
---
Our Web Page Logo

Our new web page logo, the little girl with the paintbrush (at the top of the list ), was created by Barbara. It was inspired by an unnamed character in the "Magic Handbook" monthly series by "Comic Studio" which appeared in Bonita Mystery manga magazine for girls. The original drawing was very tiny and had a big dialog bubble (right), which we first used in 1995 to temporarily mark images that were missing. The new drawing was made by a combination of tracing and freehand drawing, partly on computer and partly with pen and ink. For a while she was animated -- but she just got redrawn a second time from scratch, and isn't "reanimated" yet. Despite this drawing, it would be a mistake to assume that Barbara has any talent with graphic arts.
---
Techno-Girls Logos

You can sort of tell what year your tape was mastered in by the style of the logo. This year's logo is a sketch done with blue magic marker on typing paper, based loosely on a Akio Sugino full-color cel of Hiromi which appeared on the reverse of LD-3 in the "Ace Final Stage" OAV set. We didn't always change them exactly at the end of the year, but the logos go something like this: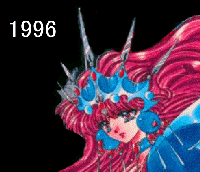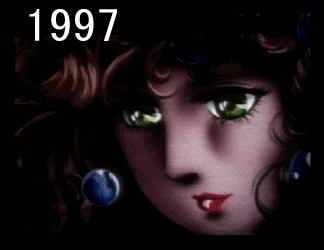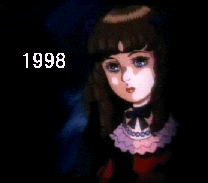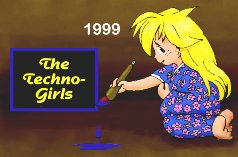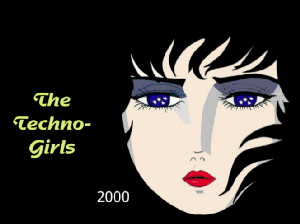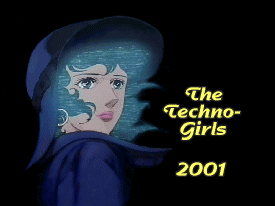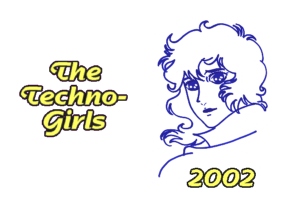 ---
The Techno-Girls (Themselves)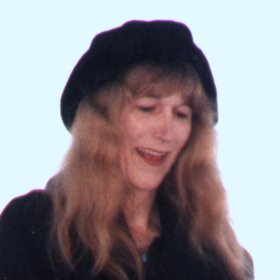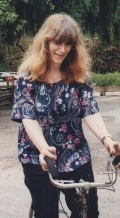 ---- Barbara ----
Occupation: Electrical engineer (Instrumentation and magnetic recording.)
Blood Type: O-negative.
Zodiac: Capricorn
Status: unmarried, but "already taken."
Age: rumored to be over 150 years old, but acts more like 9.
Personality: introvert. Easily spooked. Opinionated and blunt at times. Polite. Studious.
Hobbies (other than fansubbing): computers, piano, video
Favorite sports: dinghy sailing, downhill skiing
Looks like: Saint-Juste ["Brother, Dear Brother"]
Acts like: Nanako ["Brother, Dear Brother"]
----------------------------------------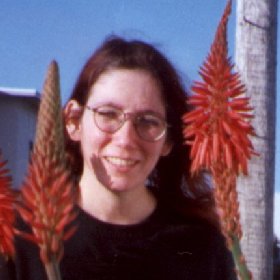 ---- Gloria ----
Occupation: visionary.
Blood type: A+ (of course!) but usually anemic.
Zodiac: Sagittarius
Status: has someone.
Age: doesn't admit to understanding the concept.
Personality: variable. Whimsical, moody, philosophical, outrageous.
Hobbies: collecting everything. Vampire fiction. Crochet and knitting.
Favorite sport: interior decorating.
Looks like: Key ["Key the Metal Idol"]
Acts like: Akemi ["Maison Ikkoku"]
----------------------------------------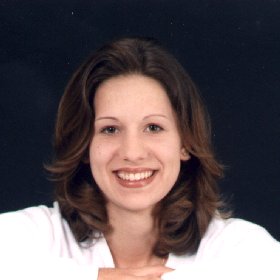 ---- Jennifer ----
Jennifer is Barbara's daughter.
Occupation: Corporate administration; college student.
Blood Type: O-negative
Zodiac: Pisces
Status: married
Age: 20
Personality: extrovert. Enthusiastic, determined, positive.
Hobbies: acrylic painting, needlepoint, travel
Favorite sport: tennis
Looks like: Himeko ["Hime-chan's Ribbon"]
Acts like: Tomoko ["Brother, Dear Brother"]


Barbara and son Austin (18) curled up on the couch, watching "Vampire Princess Miyu 1-4".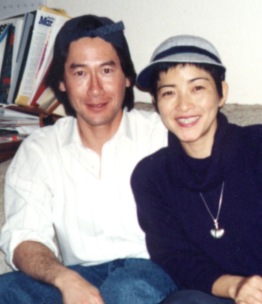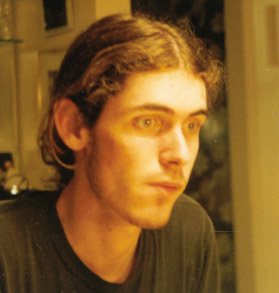 Left: Yoko Okamoto and friend Ken Koga, our star translation team for "Brother Dear Brother."

Right: Benjamin Ettinger, talented translator of "Romeo" and "Memolu."


This page was designed in Netscape Composer 6.2 and checked in Explorer 5, Netscape 4, and Opera 5.

Write us if you have any questions or comments! The email address is here. However, it is written as a graphics file.



If you can't see the graphic, you can make the email address from these parts: send the email to "technogirls" _at_ "technogirls.org". Don't forget the "@" sign. (Note that we have to do tricks like this to prevent automated programs from finding our email address in the web page and putting us on mailing lists for spam!) Don't forget the "org" part -- don't make the mistake of using "com" there, because there is a "technogirls.com" domain which has NOTHING to do with us. You too can fight spam. If you have a list of bad email addresses, put them on your web page, so that the programs find them and send email to them. Better yet, put up large lists of known spammers on your web page, and let them send spam to each other!





All original artwork, photographs, text, and translations at this site and in our fansubs are copyright (c) 1996-2015 Barbara Chambers. Certain other scans and articles are owned by others and we have tried to attribute them properly, but cannot guarantee that we have properly listed all copyright holders. All other images and trade names are copyright their respective Japanese creators/holders to whom we would like to express our appreciation of their great talent and our gratitude for their kindness for never having sued us.