Rarities and Miscellaneous
Here are some special Japanese tapes that Barbara has in her collection. Some of these are old, a few are very rare, and some aren't even anime. Mostly they are shoujo or art-anime treasures. This list is mostly for the benefit of those seeking information.

---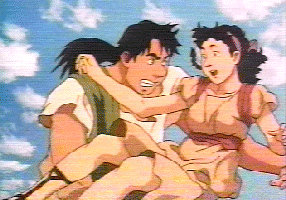 "Run, Melos" movie, Bandai, 106 min, 1992. An epic movie taking place in Greece. Commercial tape [A+]

---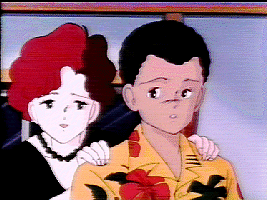 "Hon-maji-Ki" Movie. A young man who seems to be running lots of errands for his employer (or a Yakuza gang associated with his employer?). Odd errands, too. Meantime there's a sweet girl he's been dying to meet. 50 min. Pioneer LDC 1990 [A+] Commercial tape.

---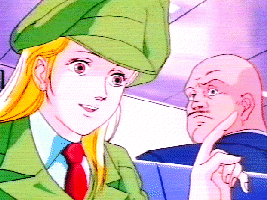 "Nora" movie. This is a SF movie about a girl's vacation on a "Holiday Inn" space station. When the artificial gravity fails, the whole space resort becomes chaotic but she helps solve the problem. Sony, 1988 approx.
---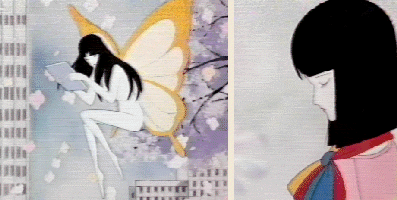 "Machi Kado no Meruhen" ("Street Corner Fairy Tale") Movie.
The alternate English title is given as "Radio City Fantasy". I've seen the title given as "Street Corner Stories". This is a fascinating art-fantasy romance about a young man with a vivid imagination, who encounters a young woman artist. Moody and eye-catching, with a simple story which flows into metaphor-animated songs. The animation style is clearly influenced by the Beatles pop-psychedelic op-art fantasy "Yellow Submarine." We might move this onto our "projects" list. Pony, about 1985-1991; no date is visible anywhere. Original commercial VHS tape, which shows some signs of deterioration.

---


"The Karuizawa Syndrome"
Interesting because it has 4 distinct art styles: a manga style, a SD style (these two shown above), a realistic style, and a art-graphic pencil style. This is definitely not a shoujo anime. It mostly concerns a young man's very persistent sexual fantasies. VHS-1 (A-)

---


"Mahou no Star Magical Emi" TV Eps. 1-34
This is the great Studio Pierrot series. Mai, from a family of stage magicians and performers, changes into an older girl named Emi who can perform some bonafide though limited magic tricks. Thoughtful, slow-moving, romantic, with some comedy here and there. 1985, SVHS A+

---


"Shiriusu no Densetsu" ("The Legend of Sirius") Movie.
A Disney-esque feature based on mythology. This was released in the US by Columbia Video, apparently, despite all the nude girls and fairies. Or else it was altered for children.

---

"Arupu no Shoujo Haiji" ("Heidi, Girl of the Alps") TV 1-4.
This was the first of the great Nippon Animation series of their World Masterpiece Theatre. VHS A+.

---


"Creamy Mami: Eien no Once More" ("Eternal 'Once More'") Movie.
This is a movie which appeared after the TV run of Studio Pierrot's original "Creamy Mami" series, their first magical girl series. Original commercial tape. 1985-86 (?) A+

---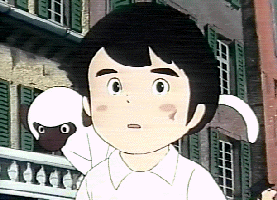 "Haha no Turuuete San-Zen-Ri" ("3000 Ri in Search of Mother") TV 1-4
Another great series from Nippon Animation. VHS-1 A+

---


"Greed" Movie
A young man goes off to seek his fortune in a strange anachronistic world of dinosaurs, mecha, magic, and swordplay. 1985. Original commercial tape.

---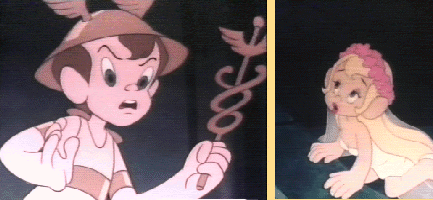 "Hosei no Orufeus" ("Orpheus of the Stars") Movie
An alternate English title on the tape is "Winds of Change". 1979. Another Disney-like feature telling the story of Orpheus, whose bad luck with women was balanced by his talent playing the lute. Again, the scantily clad or unclad fairies, cupids, and goddesses may have kept this out of reach of Americans.

---














Visits since 6-14-97: