Memolu in the Pointed Hat
"Tongari Boushi no Memoru"
TV compilation video (saihenshuuban)
==============







---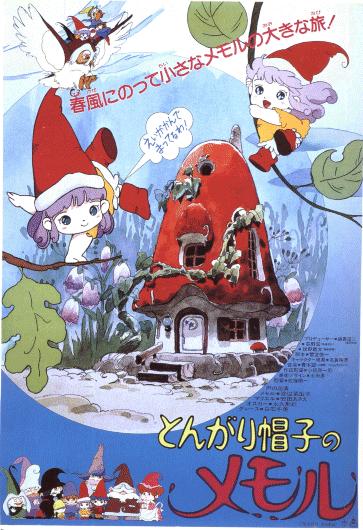 A very-shoujo story of Marielle, a fragile and lonely girl who encounters a cute magical gnome, Memolu, who came from outer space with her family.
The series ran from 1984-1985 on Japanese TV and ended with episode 50. The TV series was extensively marketed by Toei worldwide. The TV series was relatively low-budget, and animation was minimized. The series has been shown in many languages... we have some episodes from Peruvian TV titled "La Magia de Titila". This video was made from some individual TV episodes, to serve as an introduction to the characters.
Kazuko Tadano ("Sailor Moon", "Wedding Peach"), animator and director, was involved in many of the Memolu episodes. The voice of Memolu is played by Naoko Watanabe, and was her debut role; American fans probably most know her as the voice of Miyu in "Vampire Princess Miyu". Marielle is played by Akie Yasuda. There is an episode list, in Japanese. Hobbyists can still order model kits of Memolu, even!
This show was meticulously translated by Benjamin Ettinger, fully expressing the naive charm with an elegance which is almost 19th century in tone. We don't think you've ever seen a young children's animation done as a subtitled show in a literate style for adult fans like this before. One might almost be reminded of the style of Beatrix Potter ("Peter Rabbit" etc.) or J.M Barrie ("Peter Pan")...

---



[from "Peter Pan" by J. M. Barrie]
"Peter," she said, faltering, "are you expecting me to fly away with you?"
"Of course; that is why I have come." He added a little sternly, "Have you forgotten that this is spring cleaning time?"
"I can't come," she said apologetically, "I have forgotten how to fly."
"I'll soon teach you again."
"O Peter, don't waste the fairy dust on me."
---
From "Memolu" -- In this scene, Jorge has been told by Penelope to shoot Marielle's pet owl. Penelope has heard Marielle talking to someone called Memolu, and she suspects that Memolu is the owl. But Memolu is a tiny fairy. Translated by Benjamin Ettinger.
Jorge: Mademoiselle! Mademoiselle, may I ask what you're doing, walking off with that gun?
Marielle: Oh please, Jorge... Please, I don't want you to shoot that bird.
Jorge: I'd like to think I'm a fairly good shot...
Marielle: But he's my friend!
Jorge: What I mean is... I can just as easily miss. If I choose to. Mademoiselle, please trust me. And please go get a good night's sleep.
Marielle: Thank you, Jorge...



---


"Memolu" is already fully sponsored! We are very grateful for your continuing support.
Sponsored by:
the "Anonymous Fan" who also sponsored Wedding Peach episode 1.
and:
Al Lee

---