---
Other projects, that we intend to work on. Completion dates not set. Some of these tapes may be a long time before they are done. Some are in progress right now. Others may be done "quietly". Or they may be cancelled. You never know...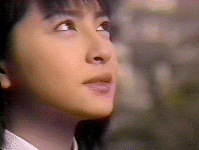 "Futari" ("The Two of Us") Yes, this is a live-action tv show. If you've found something special in the spirit of Japanese shoujo animation, then you can appreciate that the same deeply moving storytelling must also be elsewhere in Japanese culture... in Japanese manga, novels, and yes, even plain old non-animated TV.
"Futari" is a story whose proliferation in Japanese pop culture seems to continue over and over. The story first appeared in a novel by Jirou Akagawa, one of the most famous and prolific writers in Japan. The manga version was by Taku Kitazaki (who also did Angel Cop) and was published by Shogakukan. Then in 1989 a two and a half hour movie was produced by NHK, the Japanese pay-cable service, a TV channel which is something like American PBS. It was seeing the original movie which first caught my (Barbara's) attention. Then NHK began a new mini-series in April of 1996. As good as the movie was, the mini-series is even better!
No American fans have asked us to subtitle this show. Almost no one knows about it. But if you liked "The Blue-Green Years" or "Brother, Dear Brother" you will surely see something here which will touch your heart.
It's a schoolgirl story, of course. Mika is a lovely but rather timid girl who has always lived in the shadow of her tall, attractive, over-achiever sister, Chizuko. Though she loves her sister dearly, she can't help but feel second-best whenever they are together. But one day, a terrible accident takes the life of Chizuko right in front of Mika's eyes, and Mika's life is changed forever. Suddenly Mika must cope with life as the only child in her emotionally-shattered family, and she finds that her self-confidence is terribly weak now that her sister is gone. But, somehow, she finds that help is available for her... from the last person she would have thought! It isn't giving away too much to let you know ahead of time that the story is, in essence, a ghost story...
We've made SVHS source tapes of all the episodes 1-11. There is an episode between 10 and 11, but it's strictly a review episode, preparing the viewer for the last episode. We won't bother with it. (Note: each episode is an hour.)
Though it doesn't mention "Futari", this page gives some information on other Japanese dramas. We also recommend you also read this wonderful essay on the romance in the Japanese soul.

---
Projects Under Consideration:
---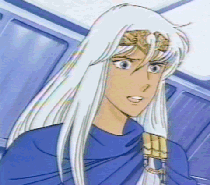 "Nayuta" This 1986 Shoujo Romantic Sci-Fi classic is long out of print, and by lucky chance we were able to obtain a pristine original of it. Nayuta becomes involved with space refugees, learns the secret to telekenetic power, and befriends a young boy who through time travel becomes a beautiful space prince -- but he also becomes her enemy as well. Ray guns, flying saucers, and hostile green aliens, it's all here, like a Sci-Fi serial from the 50's. Movie, about 80 minutes. The original shoujo manga was published in Shougakukan's "Flower Comics" under the same title.
---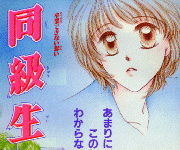 "The Classmate" ("Doukyuusei") (Click on the picture to see a full size scan of the first page, 500k size.) Here is a look at the manga I (Barbara) have been translating at lunchtime for a while. This is a one-part love story by Masami Nagareda (a favorite artist) which appeared in a recent issue of the shoujo manga magazine "Dessert" ("Desaato"). She has a story in every issue. I'm fond of this 400-page manga monthly because (1) It has furigana everywhere, (2) The stories are all love stories, usually complete in one part, (3) It's fairly easy to read at my level of knowledge of Japanese. The first page of this 75-page story is in color, along with 3 more pages, but the rest is, of course, in the usual monochrome soy ink.
Important! This is NOT the "Doukyuusei" currently being released as an anime. That anime is a semi-pornographic cute-girl feature for men. This is a shoujo manga which happens to have the same name.
Once I've translated all of it, it might be fun to make a "manga video" of it. This is a video containing scans of the pages, with English captions, presenting the entire story. Such a thing was first pioneered by Karen Duffy (Tomodachi Anime) with such delightful features as "Princess Army."
Update: after translating 65 pages, I lost interest, I'm sorry to say, and this project isn't likely to ever be completed.
---

"Oshin" movie.
A beautiful classic Japanese art-style shoujo anime, about the life of a young girl, her mother, and grandmother in China.. No laserdisk is available, so we'll have to use our original VHS tape (very high quality and extremely expensive) as source. This is 2 hours long. Ben Ettinger, who works with us as translator of Romeo's Blue Skies, made these comments:
It's an absolutely *amazing* film! It was directed by Yamamoto Eiichi, who directed the Tezuka Osamu trilogy of erotic movies (2001 Nights, etc.). Oshin seems to me like it might have turned into an anime version of The Life of Oharu if things hadn't started going well for poor lil' Oshin there at the end! (that's a good comparison, in case you haven't seen that movie, which is a good movie from the old Japanese school, by Kenji Mizoguchi) And it's done in the Meiji period instead of the Tokugawa period. I thought that was really cool, to place it at such a time in history. It's a fascinating period. I was just stunned by the subjects the movie treated. I wouldn't expect to see such hard-hitting, shocking topics treated in an anime! And with such straightforward realism, her mother being sold into the "inbai" business, Oshin being sold off to work in houses, it was all handled so frankly. Very impressive.
(Now: work not begun.)

---


"Gekkou no Piasu" ("The Earring of Moonlight") Movie
This has an alternate English title of "The Cursed Earring". A mystery/horror shoujo feature, in which a girl and her friends struggle against evil forces somehow connected to a wealthy mysterious man. 1991. This feature was never released on LD, but we think we know where we can get one of the original VHS tapes to replace our deteriorated tape.
---
"Machikado no Meruhen" See our RARITIES page.
"Little Princess Sara" 1-51 ("shoukoujo seera") (Could begin after finishing Romeo) But we've had no luck in finding the second LD box set. However, we're buying the DVD set. At present, we'll work on episode 1 and see how it goes.
"Seito Shokun" & "Staff Shokun" (So far, have been unable to locate an original VHS tape or laserdisk of this show.) Update: finally, we have the very rare videotape of the first OAV.
"Natsu e no Tobira" "The Doorway into Summer" We'd intended to work on this, but it is now far out of print, and we've not been able to get a copy. If someone could locate a copy we'd be very grateful. The VHS cassette is TM-00158.
There are some additional shows we are undecided on yet. In general, if it is good, older, shoujo/art anime of a type which has no chance of ever being commercially done in English, we are looking at it. We have to like it a lot.

---
We will NOT subtitle any of:


"Garasu no Kamen" ("The Mask of Glass") The anime (1985) based on the first few volumes of Miuchi Suzue's long running manga series, which appeared in Hana to Yume (Flowers and Dreams) girls' manga monthly. (The series STILL isn't concluded -- the artist keeps saying it is ending soon... and then it just goes on...!) Maya, a young aspiring actress, is given an opportunity by a former great actress (who has been unable to perform for years due to a horrible facial injury) who has an acting troupe. Maya leaves her friends and ailing aged mother to study with the troupe, and encounters many mysteries, jealousies, intrigues, and personal challenges. The scans above show Maya in the commercial tag, and then playing the title role in The Hellen Keller Story, a play produced by the troupe. The anime is 23 tv episodes, plus an interview with the manga artist at the end. The story is involved and interesting, though the animation and character design does not convey the pastel dazzle of the original manga. This series was also produced as a live-action tv series in Japan recently. We have the LD set. By the way, we learned a lesson about ordering out-of-print anime from Japan. The LD set is available, used, in Japan for only 22000 yen. The service which found the set and shipped it charged 44900 yen -- plus shipping. They double the price for crazy American collectors, it seems. If you want to pay much less, look at the "collector's" shops which advertise in Animage and Newtype -- they are the ones to deal with. We dropped this project to make room for "Aim for the Ace!" I hope a good, experienced fansub group subs it. If I knew of such a group, I'd sell them the LD set. Update: well, Odyssey Anime took us up on that offer, and now they have indeed bought our LDs and subtitled the series!

---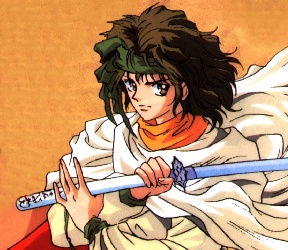 "Basara"
We have high hopes for this brand-new anime beginning April 1998. "Basara" has been a long-running manga by Tamura Yumi in Asuka Fantasy DX (and another Shougakkukan publication) for years. The story takes place in a post-apocalyptic Japan, where society has returned to a feudal basis and powerful warlords rule the land. The greatest warlord of the chaos-torn land leaves destiny in the hands of his four sons, one of them the blessed "Tatara", who unfortunately dies and his place is taken, unknown to all, by his twin sister. Chivalry, heroism, and revolution are the themes, as well as romance that cannot be denied, romance that can never be, and romance that cannot be forgotten.
For an introduction to the manga artwork, and other manga by Tamura Yumi, see this page. Note that "Basara" is also (1) the name of a character in Macross 7; (2) the name of a Japanese rock band; (3) The name of a Central European mythic hero; (4) a character in a Japanese-derived role-playing video game ("Samurai Showdown").
Update: This anime is being subtitled by "Little Akihibara" in England. We arranged for our own translator, Tomoko, to translate the first episodes, and they are already translated. But we will NOT subtitle it ourselves.

---

"SHOUNENAI TAPE TWO"
...another tape containing two shounenai OAV's: (1) "Joker: Marginal City" OAV One of the favorite features of "Wings" manga magazine, this thriller is about a gender-switching cyborg defending his/her boyfriend from another insane and jealous cyborg monster! Slightly shounenai. (now: we've done no work on this yet at all.) ALONG WITH (2) "After School in the Teacher's Lounge" OAV's 1 and 2 Another short shounenai feature. (Update: we sold both these LD's. We hoped they would sub them, but they haven't done so.

---

"Tomoe ga yuku!" OAV 's (Hope someone decides to do this someday.)

---

"Wedding Peach DX" OAV's This has been done by another fansub group. Furthermore, this is not really "shoujo anime" like the TV series was. This series is meant for male fans of the original show.

---
"Level C" This Yaoi feature is just a bit too much for us... though it's nicely done. We sold the LD to someone who said they would sub it, but that was over a year ago and no sub has been made.

---
"Utsunomiko" Movie and OAV's 1-5. There were other groups working on this title in 1997, and that's good, because we didn't really want to attempt it. However, work stopped and no sub is available. These oav's employ a lot of classical Japanese, and are a nightmare to translate, even for a native Japanese speaker. Furthermore, their quality is somewhat disappointing. It's still worth doing though.

---
"Magic Circle Guruguru" Our working on this looks somewhat doubtful. Silverwynd will be working on it. However, we may be helping out with some of it -- for instance, in doing the translation.
---


"Gestalt"
Amazingly, we actually DID finished subtitling this two-part shoujo anime. However, we did not release it. We watched it and showed it to some friends, but we didn't make even a single copy of the master tape for anyone else. We probably should have done this fansub from scratch. UPDATE: Well, we needn't have bothered, since this show has been licensed by a US company. So, everyone will be able to buy it. At least there are no tapes out there subtitled by us, to conflict with the tapes released by the US company.
---